INDEPENDENT STUDY IS BACK!
An initial goal setting session, one-on-one with Chef Siiri, followed by a series of 3 private, live 90-minute workshops that would focus on your specific top goals identified and clarified in the initial goal setting session. You take away USABLE skills, techniques and approaches to cooking, eating and fueling your life, with each workshop building on the previous one. "Independent study" style structure:
Goal Setting + Workshop Sessions:
Goal Setting Includes:
75-minute one-on-one call to set goals, gain a current baseline and build S.M.A.R.T. goals foundational structure for new momentum (can be done via video or phone)
1 customized, refreshed plan and tactics to reach your goals through 3 customized, live workshops
Exclusive access to Chef Siiri for any questions or additional help on the fly, via phone, text, video and email for the entire duration of your workshop sessions
Private Workshops: 
3 90-minute workshops: each session is livevirtual, and recorded. You receive a private link with evergreen access to replay on-demand as often as you like.
You can take notes during each workshop, write up your homework discussed and agreed on during the workshop, follow through on it and report back during the next workshop.
Each subsequent workshop has a "recap and troubleshoot" component, to ensure comprehension and usability before digging into the next focus area.
A potential, customized workshop series coming out of a goal setting workshop could look something like:
WORKSHOP 1: PREP BASICS
SHOPPING LISTS (PANTRY, FRESH, FROZEN, MATERIALS)
WEEKNIGHT HABITS AND ROUTINES (10 MIN TASKS, HABIT TRACKERS, LABELING, INVENTORY)
TWO NEW "BLANK INGREDIENTS" PREP HOMEWORK
WORKSHOP 2: PROFESSIONAL KITCHEN PREP TECHNIQUES
VEGGIES
PROTEINS
COLD HOLD PRODUCE
FIRST IN, FIRST OUT
INVENTORY MANAGEMENT HOMEWORK
WORKSHOP 3: CONNECTING TASKS TO OUTCOMES, REFINEMENT + LONG TERM SET UP
CRASH KIT MEALS (CUSTOMIZE AND INTEGRATE INTO HABIT TRACKER AND SHOP LIST)
RECAP OF PROGRESS AND RESET FOR FINAL WEEK
HABIT TRACKER RECAP AND PROGRESS
2 NEW BLANK INGREDIENT PREP TASKS
2 WEEK AND 2 MONTH GOAL SETTING
You get private chef one-on-one instruction, gaining new skills, approaches and techniques tailored to your specific goals and needs. Tackle your hunger, food, cooking technique needs at your own pace, while keeping an open dialogue with your own private chef and coach!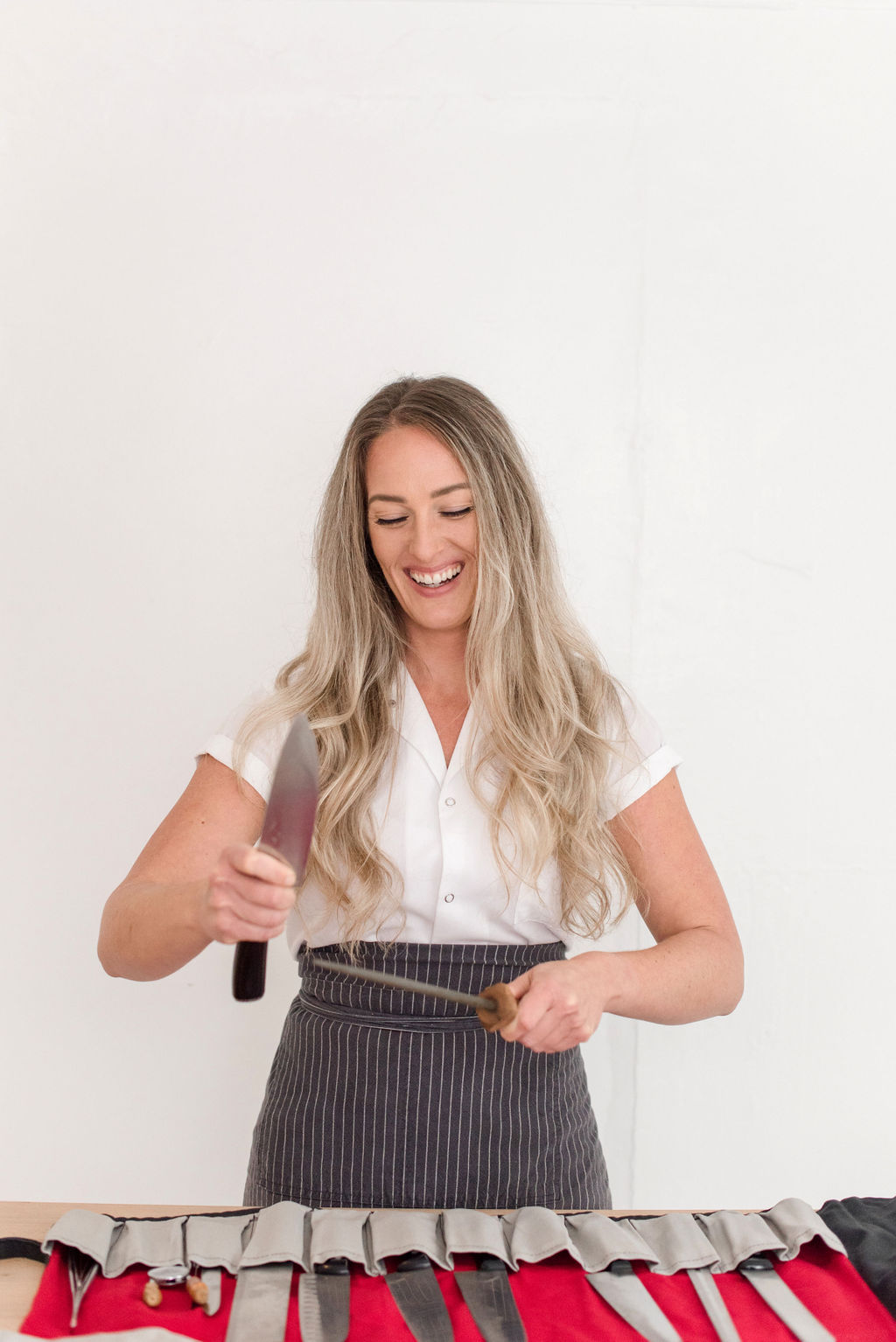 Frequently Asked Questions
Can I get a refund if I'm unhappy with my purchase?
If you are unsatisfied with your coaching, reach out to us to see if your purchase is eligible for a refund.
As stated in Teachable's Terms of Use, Coaching IS NOT covered by Teachable's 30-day student refund policy. As such, we highly recommend that you add your own refund policy here.
How do I schedule my appointment?
Upon purchasing coaching, you'll receive further instructions on how to book a time for your appointment.
Can I purchase coaching more than once?
Absolutely! If you find yourself in need of coaching more than once, simply purchase the coaching again.